Oulo 060513. Domare Ligita Zake,Latvia
2 years old.Very well balanced bitch. Nice type of head. Correct _expression. Good topline. Excellent volume of body. Correctly angulated. Stands a bit close in front. Could have stofter coat. Moves very well. Excellent temperament & presentation.
OPEN EXE/1 BB-3 CC FIN CH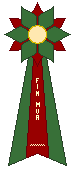 ---
Oulu 8.5.2005 Judge: Liane Horne, Australia

Lovely feminine bitch. Exellent headproportions,
eyeshape and colour. Lovely temperament.
Exellent coat and presentation. Little close behind,
sound coming, nice balanced mover.

JUN EXC-1 BB-3 Cert


The judge in Lahti; Hans Bierwolf, Austria.
1year. Good size&length. Well coated. Good head. Dark eyes.
Good pigment.Scissor bite. Free movement.
EX, and was a Junior second.
Outokumpu Group Show, Date: 9.4.2005, Judge: Paavo Mattila, Junior
Very beautiful young bitch. Good proportions. Beautiful head, _expression and pigment. Excellent frame and limbs. Beautiful coat and tail. Nice movement. Pleasant character.

EXC-1 BB-1 BOS Cert


Pello Group Show, Date: 5.3.2005, Judge: Hans Almgren, Junior

Mycket feminin med utmärkera prportioner o fina rasdevaljer, (såsom?) etr kraftfullt huvud, bra längd, nöspart, förhallande till skallen. Bra cygg. (Välplaeerad?) svans med ett fint lyft. Bra vinklar i balr parheh. Rär sig med bra steg, sunda rärelser. Vacker pals, bra strukhur.

EXC-1 BB-2 Cert


Pori Group Show, Date: 19.2.2005, Judge: Nina Karlsdotter, Sweden, Junior
Vältorund fem. huvud utm. prop. Mäkta ögot, bra öron, tillr hals, utm. överlinje, bra svans. (Välvtredtact?) kropp (hst) (lärs?) i länden. Passande benstomme tillr. (vinkelret?). Spänstiga rörelrser. Riklig päls.
Välj presenteret. I största laget (storleh).

EXC-1
Turku INT, 30.1.2005, Judge: Pirjo Aaltonen, Finland

Upright, a bitch with racial measurements and contour. Good head measurement, slightly pale nose. Good stem for a dog of her age. Slightly long muzzle. A right quality coat coming. Moves with good step in balance.
Juniorclass EXC-1 BB-4 Cert


Helsinki Winner 2004
Beautifully kept female puppy. Excellent head. Good appearance. Noble neck. Good skeletal structure, chest, ribcage and back. Good angular form and tail. Exemplary movements.

1HP + BOB-puppy



Seinäjoki INT Oct. 23, 2004
Domare: Annika Ulltveit-Moe, Sweden
7 mån. mkt. bra hund som ej skall bli grövre, mkt. bra svans.Tillräckliga vinklar, lora stomme,
kan ännu komma upp lite i fronten utm. päls, För sig bra för åldern.
Class puppy 4 female puppies
1HP, BOB


Seinäjoki Oct. 24, 2004
Domare: Conny Byström, Sweden
Tilltalande huvud bra pigment logom hals mycket välkroppad för åldern och
mednormala vinklar fram o. bak rör sig sunt och med välburen svans början till korrekt päls,
väl presenterad i god kondition.
1 HP + BOB, Class puppy


Helsinki Kaivopuisto, Championship Show Aug 29 2004. The Finnish Toy Dog Association.
Judge: Chantal Méry, France
Lovely Bitch. Nice typical head. Seiccorbide. Exc body propertoons.
Exc coat dexture and condition. Exc tailset. Moves very well.
Class 5-7 month puppy, 5 female puppies